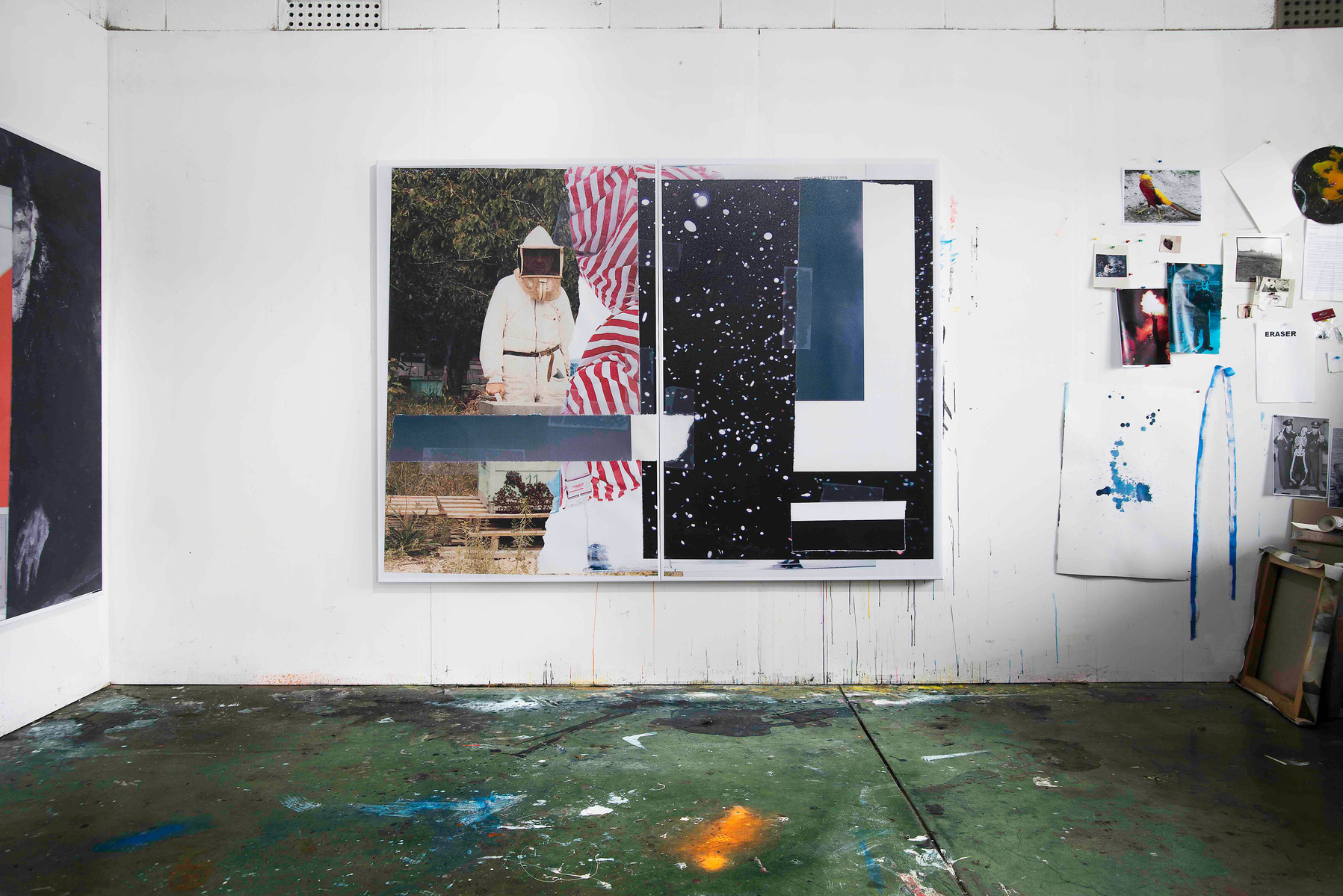 Artist statement
Sloan is interested in examining that which often escapes our attention, in presenting oblique signifiers, and points of transformation. Through the assembly of seemingly disparate and unconnected images viewers are required to construct their own ordering narratives. Images are thrown up – as if from the collective subconscious of our visually saturated epoch – devoid of hierarchy, yet laced with arguments, loaded with questions.
From imperial histories to art histories, Sloan identifies colonising empires as the unifying strand that connects his fields of enquiry.
"As artists, art-historical conventions and aesthetic traditions colonise us and our ways of seeing as much as political and ideological structures. I am fascinated on a broad, overarching scale by the ways various empires affect us and the question of what colonises us now?"
In If it keeps on raining the levee's gonna break, Sloan presents collages constructed out of images taken from found art, architecture, music and design magazines. During his artist in residency at HIAP in Helsinki, Sloan established a daily ritual of making collages from magazines and local found materials. Since completing the residency program, he has continued this daily practice. The resulting works play into a rich field of practice that was established in the twentieth century.
From the seminal Modernist collages of Georges Braque and Pablo Picasso (which brought sculptural elements directly onto the surface plane of the painting), to the political collage and photomontage works of Dada artist Hannah Hoch (which used images and text appropriated from mass media to attack the ideals popularised by Weimar Germany's media), through to the photomontages and composite images of Pop Art artists such as Richard Hamilton, the processes of collage and photomontage can be seen as inherently disruptive and non-linear. The artist is able to shatter the prison cells of space and time, creating new possibilities, surreal juxtapositions and dissident commentaries. Sloan exploits these potentials of collage while traversing back into the realms of painting and printmaking.
The importance of music in Sloan's practice cannot be underestimated. In this body of work, musical references are wide-ranging and tightly interconnected to art-historical references. Lee Scratch Perry's band lends its name to The Upsetter (2014) – a work that features a helmet worn in a controversial Dada performance. And in Ascension (2017), John Coltrane's watershed free jazz album lends its name to a work that references Manet's equally revolutionary work, Luncheon on the Grass (1863).
Sloan disrupts the privileged, sacred interior spaces of the museum, the art gallery, the artist's studio, and the biennale pavilion, creating new spaces for contemplation, inviting unexpected things, people, and events to enter, allowing juxtapositions and commentaries to arise that are sometimes serious, sometimes tongue-in-cheek, yet always profoundly subversive.